Hangout ~
assalamualaikum..
hari niey nak cite pasal semalam punya semalam punya cite..huaahaha..k sorry xlawak..
hari tu saje menggatal nak gi jenjalan at mahkota parade tu..jenjalan ngan minah niey ngan 2 orang lagi cousin diew..aq xkenal..xperlu kenal pun..budak bawah jew pun..huhu..
itu kami ! comel kan
memula rancang nak kluar 3 orang..aq,budak niey ngan lagi sorang,effa..tapi effa xpat kuar..diew balik muar la pulak..yang pakcik alip tu pulak sesuka diew jew cakap aq keluar xcakap ngan diew..padahal kemain lagi aq text diew ajak keluar..diew yang xnak..bengong..okey diew keje..aq paham....
pagi tu sebab aq xdew transport aq mintak la jasa baik abang aq tolong hantarkan..pastu diew kol abang sedara aq..okay xkisah la tuu kan..diew malas nak bawak motor..lagipun diew nak tengok nfon diew sekali yang dah tersadai kat melaka tu..paling xley blah diorang pow aq wet minyak..aq bagy jewla sekadar yang mampu..lima hengget jew cukup..budak kecik xley pegang wet banyak2..huhu..
tapi yang sedihnya masa lam kete tu tetiba bapak aq kol abang aq tanya kitorang gy mana..yes ! aq keluar xcakap at parents aq..haha..anak derhaka tol..bukannya apa..time aq nak keluar tu bapak aq xde at uma..diew gi mana ntah keluar xcakap..niat nak cakap dalam kete sebab kalau cakap at uma takut diorang xbagy..tapi xsempat nak cakap sekali dua orang kol..hamek kau ! memula bapak aq..tanya macam2 macamlah aq niey keluar gi wat jenayah..dah habis tu mak aq pulak yang kol..niey mesty aq kompem bapak aq yang report niey..terpaksa la menadah jew telinga dengar diew membebel..aq hanya mampu cakap "baik" dengan "ye" jew..*sopan x aq?ngeee..
pastu sampai mp lam kol 11 lebih..aq pikir denin dah sampai lew...rupa-rupanya diew at mc lagi tengah tunggu bas..ok terbaik..terpaksa la aq tunggu at mcD tucam tunggul..aq memang ditakdirkan untuk jadi penunggu yang setia..redha jewla..
tercongok at sana..dahla sorang sorang..kalau aq tau aq ajak cousin aq sekali..xdewla rasa keseorangan sangat..lama jugak lah jadik penunggu tu..nak order makanan malas..sorang sorang..xdew maknanya..tunggu jewla lam kelaparan tu..
penantian selama lebih kurang dekat 1 jam tu akhirnya berakhir..sampai jugak budak tu..pastu straight makan sebab dah lapar sangat..dah habis makan budak budak niey ajak gi karok..okay aq pikir bilik asing-asing..rupanya x..pikir duit banyak sangat lah tu nak asing-asing..diorang jew yang banyak nanyi..aq xpun..xtau la nape aq pemalu sangat masa tu..yewla aq an orang luar..diorang 3 orang tu kazen mazen..aq niey bukannya jenis yang cepat ngam dengan orang baru..kena ambik masa dulu..1 jam dalam tu..alip kol aq xsempat nak angkat..baru nak angkat dah maty..pastu aq kol balik ukannye nak angkat kew apew..okay diew busy kerja..understanding x aq..:P
dah 1 jam terperuk jadi beruk lam tu sampai pecah anak tekak kitorang patah balik gy mp..*tady karok at dp..jenjalan at situ gy men game..game diew ntahla macam xmenarik jew aq rase..dah selalu masuk kowt...pastu member aq ajak karoake lagi..okay kali niey aq xmalu bab kitorang dua orang jew..yang lagy dua orang tu gy wat haluan sendiri..masalhnya pulak sound effect dalam tu xbest langsung..cam syiot jew..xdew mood nak karoke lagi..pastu habiskan token gy jenjalan pusing pusing situ..okay sumpah bosan..kalau kat jj cam xterasa pun bosan..tuh la..orang ajak tengok wayang xnak..kan dah bosan..ngee..
pastu jenjalan pusing pusing..cari baju..cari jam..tapi xbeli pun..macam xde hala tuju jew..last2 aq beli selai baju..pastu jumpa jam moustache tu..memula nampak yang xlawa..pastu tetiba ade satu tu lawa..nyesal tunjuk at den..bab diew yang beria nak beli..aq xpun mula-mula..tapi cantik warna merah..pastu tanya untie tu adew lagy x..diew un keluarkan yang lain..xmenarik..just adew 1 tu jew cantik warna putih..den beria ajak aq beli..diew jual 25 kowt..kemain payah aq nak menawar diew bagi kurang 2 hengget jew..cam hapee..last2 beli gark..aq bayar 20 jew..selebihnya den yang bayar..huahaha..tu lah sape soh paksa kan..ngee..so niey la rupa jam yang xberapa nak mahal tu..*ayat bajet wet banyak jew*
cer teka mana satu aq punya..cer la..cer la..
pastu hari pun dah petang..tengok jewla jam tu dah kol bape..aq kol abang aq soh jemput..memula diew xnak..last2 aq bodek diew cakap nak bayar wet minyak..baru laa diew datang..tapi kalau aq jadi diew pun aq xnak datang gark..dahle jauh..wat penat jew..huhu..tapi xpe..abang sayang adik kan ? huaaa..gedik !
sementara tunggu abang aq sampai tu kitorang lepak2 dulu depan starbuck..aq xbagy denin and the gang balik dulu..aq soh diorang tunngu aq balik baru diorang boley balik..huahaahaa..kejam x? alaa okay la tu..diorang ramai..aq sorang..xkan diorang sanggup nak tengok aq jadi penunggu sorang sorang lagi..cukup cukup lah aq dah tunggu diorang tadi..sementara menunggu tu snap2 lahh dulu..
niey lam toilet..haha..pedulikan denin tengok aq cer..comelkan..huahaha..tau dah..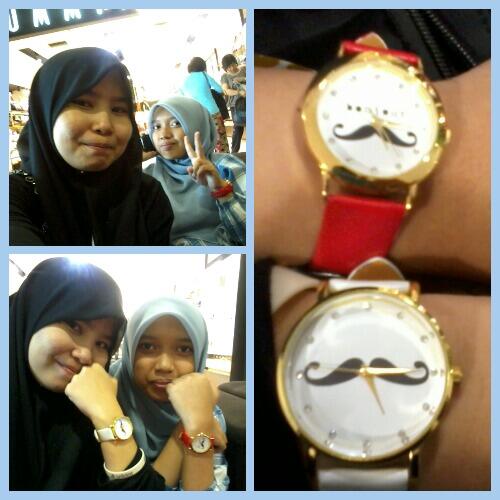 ajet2 tunjuk jam couple..ngee..
aq ngan taeyang sama2 pendek kan..haha..tu yang sweet tu..den pulak sama ngan GD..
lastly nak cakap yang kami niey sweet macam bias kami ark?haha..gambar GDYB nak sama..sengal !
haha..kay that's all tuk kali niey..nasib baik masa aq balik tu mak bapak aq xdew lagi at uma..bapak aq keje masuk shift petang..yang mak aq pulak keje balik lambat sikit..ngee..nasib..
papew pown hari tu memang best la daripada dok tercongok jew at uma xdew wat pew an..baik wat keje berfaedah niey..haha..berfaedah la sangat..
kay tu jew..chow..
Older Post | Newer Post